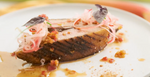 This recipe is incredible! 
| | |
| --- | --- |
| Preparation: 5m | Cooking time: 20m |
| Serves 1-2 | Wait time: 24h + 5m |
Ingredients
1 duck breast
1 TBSP of butter
1/2 a garlic clove, finely chopped
1 TBSP Bretelles Magical Rub
2 TBSP of fresh rhubarb, chopped into small cubes
3 TBSP of dark maple syrup
Fresh basil
Salt, to taste
Method
With a sharp knife, make crosshatched incisions in the fat of the duck breast and sprinkle both sides with the Magical Rub. Then, place the duck breast uncovered in the fridge for at least 24 hours. 
At least 24 hours later, preheat the oven to 350F.
On the stovetop, bring to a boil the dark maple syrup in a saucepan. Add the rhubarb and cook for 2 minutes. Place aside.
Over low heat, slowly heat up an oven-safe skillet. Lightly season the duck breast with salt, and brown, fat side down, until golden (this will take around 8 minutes).
Once the fat is golden brown, place the skillet in the preheated oven for 5 minutes to obtain pink flesh.
Remove the skillet from the oven and turn the duck breast flesh side down. Add the butter and garlic to the pan and baste the meat for 2 minutes.
Take the duck breast out of the pan and let it sit for 5 minutes.
Cut the meat and add a pinch of Magical Rub on top. Serve with two spoonfuls of the rhubarb and syrup sauce and garnish with fresh basil.
Chef's secret: To cut into the richness of the duck, you can also add a splash of red wine vinegar to your sauce. Know that adding the vinegar will result in a tangier sauce. 
Enjoy!
Original creation by Riccardo Bertolino for Bretelles
In collaboration with Maple from Canada